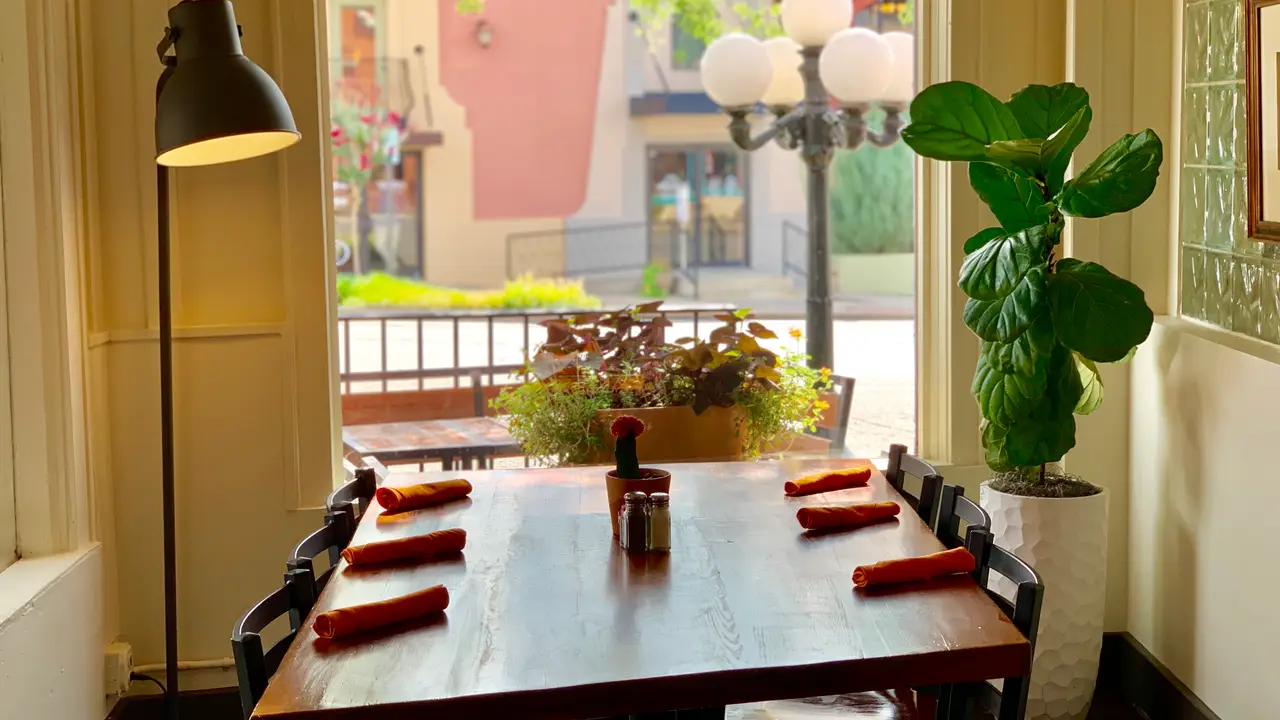 Make a reservation
Order delivery or takeout
Additional information
Dining style

Casual Dining

Cuisines

Contemporary American, Vegan, Vegetarian

Hours of operation

Lunch Daily 11:00 am–4:00 pm Dinner Daily 4:00 pm–9:00 pm

Phone number

(405) 602-2002

Payment options

AMEX, Discover, Mastercard, Visa

Executive chef

Ryan Parrott

Catering

Picasso Cafe is proud to offer custom catering services. Each event is a new, unique experience and we create a culinary experience tailored for a specific guest. Please visit our website to submit our discovery worksheet and someone will contact you shortly.

Private party facilities

Picasso is versatile by design featuring a number of spaces which can be reserved for private seating. Often frequented areas include our organic, covered back patio, upstairs dining with private bar access, main dining room, The Vista-private dining for up to 8 with a beautiful view of The Paseo, our cozy atrium with leather couches and the relaxed feel of home or the private bar area.

Private party contact

Marti Storie: (405) 602-2002
Cross street

NW 30th St. & Walker Ave.

Parking details

The entirety of Paseo offers free street parking in addition to several public lots. The best way to experience The Paseo--which literally translates to "stroll"--is to meander through on foot. Immerse yourself in the arts at the numerous galleries and shop the various retail stores.

Public transit

METRO Transit bus service is available to The Paseo--take route 4 bus 1 to find us.

Entertainment

Picasso is a proud supporter of the arts. We feature live, all original music performances each Friday and Saturday from 9.30-12am. Additionally we host a featured artist each month with an open-to-the-public reception each 1st Thursday of the month. Every third Tuesday is our "Veggie Dinner" featuring 5 farm to table courses by Executive Chef John Madore for just $23 also available with wine pairings. The last Wednesday of the month is "On Tap," a town hall style meeting held in conjunction with local NPR affiliate KOSU to discuss current events. Its never a dull moment at Picasso!

Additional

Bar/Lounge, Beer, Cafe, Cocktails, Counter Seating, Delivery, Entertainment, Full Bar, Gender Neutral Restroom, Gluten-free Options, Happy Hour, Late Night, Non-Smoking, Patio/Outdoor Dining, Private Room, Takeout, View, Weekend Brunch, Wheelchair Access, Wine
What 1,691 people are saying
Overall ratings and reviews
Reviews can only be made by diners who have eaten at this restaurant
4.8 based on recent ratings
4.8

Food

4.9

Service

4.7

Ambience

4.7

Value
Loved For
Oklahoma City

Best Service

Oklahoma City

Great for brunch

Oklahoma City

Neighborhood gem

Oklahoma City

Great for outdoor dining

Oklahoma City

Best Service

Oklahoma City

Great for brunch

Oklahoma City

Kid-friendly

Oklahoma City

Neighborhood gem

Oklahoma City

Great for outdoor dining
overall

5

food

5

service

5

ambience

5




OT

OpenTable Diner

Oklahoma City

overall

5

food

5

service

5

ambience

5




OT

OpenTable Diner

Oklahoma City

Dined on November 27, 2023

overall

5

food

5

service

5

ambience

5




Dined on November 16, 2023

overall

5

food

5

service

5

ambience

5




Dined on November 12, 2023

overall

5

food

5

service

5

ambience

5




Dined on November 12, 2023

overall

5

food

4

service

5

ambience

5




Dined on November 11, 2023

overall

5

food

5

service

5

ambience

5




OT

OpenTable Diner

Oklahoma City

Dined on November 11, 2023

overall

5

food

5

service

5

ambience

5




Dined on November 10, 2023

overall

5

food

5

service

5

ambience

5




a

attorneyatlarge

Oklahoma City

vip

Dined on November 5, 2023

overall

5

food

5

service

5

ambience

5




Dined on November 4, 2023

overall

5

food

5

service

5

ambience

5




Dined on October 28, 2023

overall

5

food

5

service

5

ambience

5




OT

OpenTable Diner

Oklahoma City

Dined on October 28, 2023

overall

4

food

4

service

5

ambience

5




Dined on October 26, 2023

overall

4

food

4

service

5

ambience

4




Dined on October 22, 2023

overall

5

food

5

service

5

ambience

5




Dined on October 22, 2023

overall

5

food

5

service

4

ambience

5




a

attorneyatlarge

Oklahoma City

vip

Dined on October 21, 2023

overall

5

food

5

service

5

ambience

5




Dined on October 21, 2023

overall

5

food

5

service

5

ambience

5




Dined on October 19, 2023

overall

5

food

5

service

5

ambience

5




Dined on October 15, 2023

overall

5

food

5

service

5

ambience

5




Dined on October 14, 2023

overall

5

food

5

service

5

ambience

5




HC

HeatherC

New York Area

vip

Dined on October 14, 2023

overall

5

food

5

service

5

ambience

5




overall

5

food

5

service

5

ambience

5




Dined on September 30, 2023

overall

5

food

5

service

5

ambience

5




Dined on September 29, 2023

overall

5

food

5

service

5

ambience

5




Dined on September 24, 2023

overall

5

food

5

service

5

ambience

5




Dined on September 24, 2023

overall

5

food

5

service

5

ambience

5




Dined on September 24, 2023

overall

5

food

5

service

5

ambience

5




Dined on September 17, 2023

overall

4

food

3

service

3

ambience

3




Dined on September 15, 2023

overall

5

food

5

service

5

ambience

5




Dined on September 15, 2023

overall

5

food

2

service

5

ambience

5




Dined on September 15, 2023

overall

5

food

5

service

5

ambience

5




OT

OpenTable Diner

Oklahoma City

Dined on September 15, 2023

overall

5

food

5

service

5

ambience

5




Dined on September 10, 2023

overall

4

food

5

service

5

ambience

2




OT

OpenTable Diner

Los Angeles

Dined on September 9, 2023

overall

5

food

5

service

5

ambience

5




Dined on September 4, 2023

overall

4

food

3

service

5

ambience

5




OT

OpenTable Diner

Oklahoma City

Dined on September 2, 2023

overall

5

food

5

service

5

ambience

5




Dined on September 1, 2023

overall

5

food

5

service

5

ambience

5




OT

OpenTable Diner

Oklahoma City

Dined on September 1, 2023

overall

5

food

5

service

5

ambience

3




Dined on September 1, 2023

overall

5

food

5

service

5

ambience

5



FAQs
Picasso on Paseo does offer delivery in partnership with Chow Now. Picasso on Paseo also offers takeout which you can order by calling the restaurant at (405) 602-2002.
Picasso on Paseo is rated 4.8 stars by 1691 OpenTable diners.
Yes, you can generally book this restaurant by choosing the date, time and party size on OpenTable.
Make a reservation
Order delivery or takeout
Additional information
Cross street

NW 30th St. & Walker Ave.

Hours of operation

Lunch Daily 11:00 am–4:00 pm Dinner Daily 4:00 pm–9:00 pm

Cuisines

Contemporary American, Vegan, Vegetarian

Dining style

Casual Dining

Parking details

The entirety of Paseo offers free street parking in addition to several public lots. The best way to experience The Paseo--which literally translates to "stroll"--is to meander through on foot. Immerse yourself in the arts at the numerous galleries and shop the various retail stores.

Public transit

METRO Transit bus service is available to The Paseo--take route 4 bus 1 to find us.

Payment options

AMEX, Discover, Mastercard, Visa

Executive chef

Ryan Parrott

Entertainment

Picasso is a proud supporter of the arts. We feature live, all original music performances each Friday and Saturday from 9.30-12am. Additionally we host a featured artist each month with an open-to-the-public reception each 1st Thursday of the month. Every third Tuesday is our "Veggie Dinner" featuring 5 farm to table courses by Executive Chef John Madore for just $23 also available with wine pairings. The last Wednesday of the month is "On Tap," a town hall style meeting held in conjunction with local NPR affiliate KOSU to discuss current events. Its never a dull moment at Picasso!

Additional

Bar/Lounge, Beer, Cafe, Cocktails, Counter Seating, Delivery, Entertainment, Full Bar, Gender Neutral Restroom, Gluten-free Options, Happy Hour, Late Night, Non-Smoking, Patio/Outdoor Dining, Private Room, Takeout, View, Weekend Brunch, Wheelchair Access, Wine
Phone number

(405) 602-2002

Catering

Picasso Cafe is proud to offer custom catering services. Each event is a new, unique experience and we create a culinary experience tailored for a specific guest. Please visit our website to submit our discovery worksheet and someone will contact you shortly.

Private party facilities

Picasso is versatile by design featuring a number of spaces which can be reserved for private seating. Often frequented areas include our organic, covered back patio, upstairs dining with private bar access, main dining room, The Vista-private dining for up to 8 with a beautiful view of The Paseo, our cozy atrium with leather couches and the relaxed feel of home or the private bar area.

Private party contact

Marti Storie: (405) 602-2002